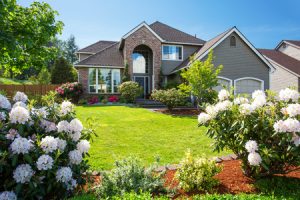 Looking for ways to attract new tenants to your investment property? The home's exterior is the first thing prospective tenants will notice, so this is typically a good place to start. Although some renovations like roof replacements and house painting can be quite expensive, there are other more affordable changes you can make that will significantly improve your property's curb appeal. Check out a few of our favorite ideas below!
Pressure Wash the Exterior
Using a pressure washer to clean your property's siding, shutters and walkways offers an easy to brighten it's exterior and remove stuck-on grit and grime. If you don't own your own pressure washer, you can typically rent one from your local hardware store. Just be sure to carefully regulate the PSI so that you don't inadvertently remove paint or damage sensitive surfaces.
Paint the Front Door
As the main entrance to a home, the front door should serve as an attractive focal point that feels warm and inviting. If you can't afford to repaint the entire property, you can start by updating the front door with a fresh coat of paint. Consider using a bold accent color that complements the color of the home's siding.
Replace the Mailbox
An old, dented mailbox can distract from what might otherwise by an attractive property. New mailboxes start at around $20, so there's simply no reason to let that old mailbox keep dragging down your home's curb appeal anymore.
Update the Landscaping
There's no better way to breathe new life into a home than by adding some new planters and flowerbeds. Try to select low-maintenance species that won't require a great deal of work to keep up with after you put them in the ground.
At AMG Property Management, we can work with you to maintain your property so that it's always looking its very best. To learn more, give us a call or contact us online today!